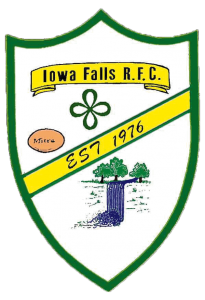 For over 33 years more than 600 men have worn the green and gold, and many are still are playing despite growing old come play rugby in the heartland! -IFRFC
The Iowa Falls Rugby Football Club was founded in 1976 in Iowa Falls Iowa.  Located in central Iowa in the heart of America. We have developed one of the finest facilities in the United States. So if you are in town, please contact us and we would be glad to give you a tour of our facilities.We would be honored to show you around our facility. To read more on our history.
Quick Update on Events & Activities – Spring 2016
Our first match is April 9th vs St. Cloud in St . Cloud.
The Regional Midwest Tourney is on April 30th with the site to be announced.
The Midwest Championship May 7 and 8. The All IOWA tournament will be held on May 7 and 8.
Our match secretary is working on tune-up matches in between those dates.
Practices are held Tuesday and Thursdays.
Midwest Senior Men's Division IV Iowa 2015-2016
2015-2016 — League — Rugby 15s
| Team | GP | Record | W | L | T | PF | PA | PD | BT | BL | FF | PTS |
| --- | --- | --- | --- | --- | --- | --- | --- | --- | --- | --- | --- | --- |
| Iowa Falls Rugby | 4 | 3-1-0 | 3 | 1 | 0 | 128 | 79 | 49 | 4 | 1 | 0 | 17 |
| Northeast Iowa Barbarians | 4 | 3-1-0 | 3 | 1 | 0 | 150 | 103 | 47 | 4 | 0 | 0 | 16 |
| River City Rugby | 4 | 2-2-0 | 2 | 2 | 0 | 143 | 118 | 25 | 3 | 1 | 0 | 12 |
| Rochester Rogues | 4 | 1-3-0 | 1 | 3 | 0 | 104 | 184 | -80 | 2 | 0 | 0 | 6 |
| Faribault Bokspring | 4 | 1-3-0 | 1 | 3 | 0 | 78 | 119 | -41 | 1 | 1 | 1 | 5 |
Standings Last Updated: 11/14/15