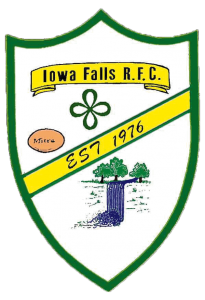 For over 33 years more than 600 men have worn the green and gold, and many are still are playing despite growing old come play rugby in the heartland! -IFRFC
The Iowa Falls Rugby Football Club was founded in 1976 in Iowa Falls Iowa.  Located in central Iowa in the heart of America. We have developed one of the finest facilities in the United States. So if you are in town, please contact us and we would be glad to give you a tour of our facilities.We would be honored to show you around our facility. To read more on our history.
Our Next Upcoming Match:

Update from the Iowa Rugby Union: Apologize for the lateness is getting this out. Some late changes caused many unnecessary headaches and re-iterations to get everyone their 3 matches and have daylight for social activities. Here is what we're going to go with for All-Iowa this year. Winners of their colored pools will be considered their division winners, with another match after the HOF ceremonies. The Women's pool is purple, for clarification. Reminder that the captains meeting is at 730am. See you all there

MAY 6-7
IOWA FALLS RUGBY CLUB
As always free camping Friday and Saturday night
Free Showers and firewood…. And always a good time.
There is a limited number of teams we can get into a 1 day schedule for 15's.
So get your entry in early.
$300 – Men's 15s, Additional $50 for a 7s team in Sunday's 7's Play
$150 – Men's 7s Team only
$300 – Women's 15's (last year we only had 4 teams)
If we had some interest in 7's for Women we could consider it. Last year no interest.
Check payable to Iowa Falls Rugby Club
Mail to: Jim Gillespie
c/o Cam Spray
PO Box 726
Iowa Falls, IA 50126
Please call 1-800-648-5011 ext. 1212 for more information.